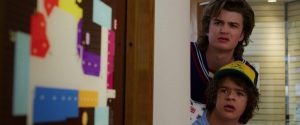 The folks at the Parents Television Council must have done a collective spit take this week.
The PTC warns us about the media flowing into our homes, our tablets, our lives. The group doesn't want to censor entertainment. Instead, it reminds creators about the impact their stories have on the culture at large.
It's why the PTC keeps hammering Netflix over shows like "13 Reasons Why" and "Stranger Things." The group argues the former show's depiction of teen suicide could cause a spike in actual self harm.
The PTC pointed to specific data to bolster its argument.
More recently, the PTC tallied up the vulgarity seen in the third season of "Stranger Things," a show with young characters many pre-teens want to watch. [This reporter's 10-year-son among them].
"Although the program is rated TV-14, parents should be aware of the spike in adult content, especially profanity on the program. According to the content filtering provider VidAngel, there were 357 profanities during Season 3 of the show, compared to 310 profanities in Season 2, and 163 profanities in the first season," said PTC President Tim Winter.
That's information parents should know.
It remains to be seen if a fourth season of "Stranger Things" finds more, or less, profanity. What we do know is that Chief Hopper (David Harbour), Joyce (Winona Ryder) and other stars of the '80s set show won't be smoking like they once did.
The same, apparently, applies to other Netflix originals moving forward.
"Netflix strongly supports artistic expression. We also recognize that smoking is harmful and when portrayed positively on screen can adversely influence young people. Going forward, all new projects that we commission with ratings of TV-14 or below for series or PG-13 or below for films, will be smoking and e-cigarette free — except for reasons of historical or factual accuracy," a Netflix spokesperson told The Hollywood Reporter. "For new projects with higher ratings, there'll be no smoking or e-cigarettes unless it's essential to the creative vision of the artist or because it's character-defining (historically or culturally important)."
Why?
A group called The Truth Initiative, devoted to eliminating tobacco products, claimed Netflix increasingly uses smoking characters in its stories.
The PTC applauded Netflix's change of heart with one huge caveat.
"Netflix is publicly admitting that its program content can adversely impact young people, and they're taking positive steps to do something about it. Kudos to Netflix for finally connecting those two dots. But why would they stop at tobacco use when the National Institutes for Health has recently linked their program content to a spike in children committing suicide? Why is artistic expression more important to Netflix when a teenager slits her wrists than when she puffs on a cigarette?" said PTC President Tim Winter.
He couldn't hold back on the double standard in play.
"Make no mistake, this announcement by Netflix is a step in the right direction. But it is a baby step when a giant leap is what's needed. Surely Netflix cares as much about how its programs can adversely influence children to commit suicide as it rightly does about child tobacco use. The same rationale should hold true for depicting a boy being sodomized with a broken mop handle, for glamorizing underage drinking and drug use, and for the grotesque sexualization of children.
Netflix deserves some credit for listening to its critics. Why the company reacts immediately to one group's lament, while consistently ignoring another's thoughtful cry, remains a "Stranger Things"-sized mystery,
The post Netflix's Glaring Double Standard on Full Display appeared first on Hollywood in Toto.
from Hollywood in Toto https://ift.tt/30uIsjf
via
IFTTT